Hi Peeps,
Here I am with a piece I have made which has been inspired by the song "

HONKY CAT

" by Elton John in 1972. :-)
This is a very Hippy Honky Cat as I have given him a psychedelic background and he is a glorious, drug induced pink colour :-D I suppose he could be called 'Lily' after the song 'Lily The Pink' by The Scaffold in 1968 ....... Showing my age now hahahaha :-D
He has been coloured with Spectrum Noir pens.
I was well into my psychedelic period in Art at school at this time and also very much into Elton John :-) Sometimes we were allowed to bring records into art class to play whilst we worked - such a cooooool Teacher we had :-D
This piece really took me back to my school art when I was really into weird patterns and colour block changes etc. LUV it :-)
Oh yeah - and I lived just a few streets away from David Bowie :-D Who'd have known he would become such a mega superstar ?!!!!
This guy is from SLS Lines and he's called '

REBEL CAT

'.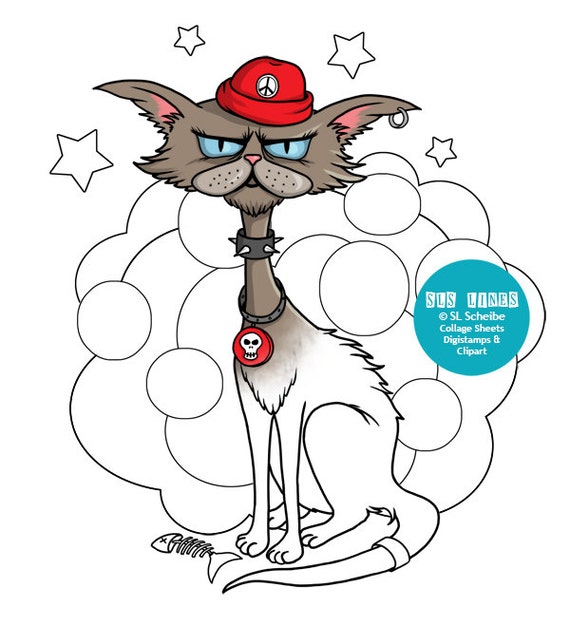 OK - that's me for the moment. Thanks for dropping by xxxxxxxxxx
Challenges I am entering:
SLS Lines Challenge #17 - Inspired by Move/Book or Song
**** TOP 3 ***
Crafting With Attitude Challenge #12 - Anything Goes
Little Red Wagon Challenge #330 - Furry Friends
The Mod Squad Challenge - Animal Fun
Moo Mania Challenge - My Favourite Pet......
Cats... I have 17 :-D
The Paper Shelter Challenge #237 - Animal Magic